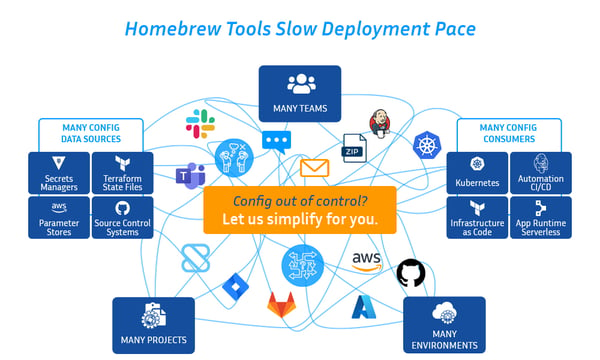 Consistent :: Secure :: Expected :: Releases
Many teams, many projects, one source of truth.
Configuration complexity causes unplanned downtime, security lapses, and decreased deployment velocity. Without a synchronized view it is nearly impossible to manage your configuration across all the teams, projects, and environments where config is touched every day.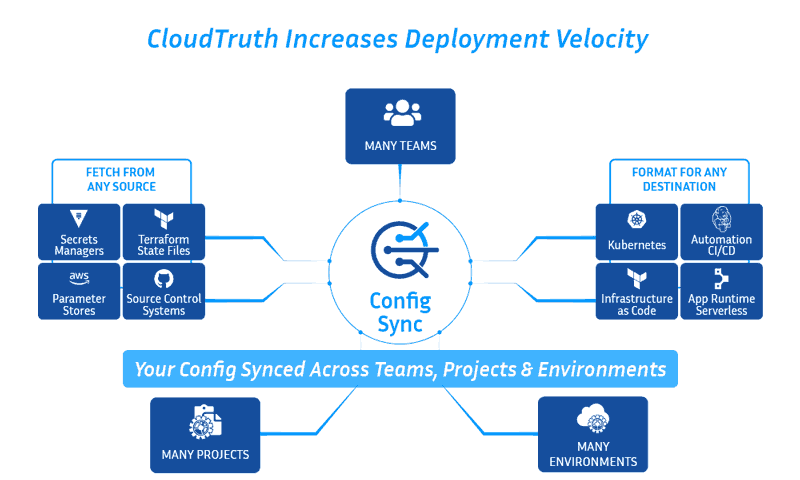 Teams that use CloudTruth achieve better uptime, enhanced security posture, and increased innovation getting their new features to product faster.
Learn More
CloudTruth in Action section
Placeholder for a section to show a video or link to "See CloudTruth in Action"
See CloudTruth In Action
One place to manage BUILD, DEPLOY and RUN TIME Config
"Oh, absolutely. Fantastic. If I can make one API call and get all the configuration that I need for an environment, that's fantastic. This is something that could save us a lot of time and money."
"If this [CT] works the way you describe, it's the "holy grail" tool that many DevOps teams want for themselves."
"I haven't seen anything like this. I like it."
"Candidly, you guys have got something good here. I like. To be honest, if it was crap, I'll tell you. And I don't see crap here."